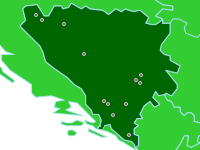 Bosnia & Herzegovina
Bosnia & Herzegovina, formerly a republic in Yugoslavia, declared its intention to leave the Yugoslavia federation in 1992 but was drawn into a war that extended into 1996. The current federation (2011) includes two divisions and one internationally supervised district. The three principal ethnic groups (Bosnian Moslem, Bosnian Croat, and Bosnian Serb) have common and specific cultural roots. The complex cultures of Bosnia & Herzegovina have connections to Slavonic, Austrian, Hungarian and Ottoman cultures.
The country has three pronounced landscapes (the mountains of the Dinaric Alps, the Adriatic Karst, and the Sava River) that are important factors in the development of the different types of vernacular architecture still found.